FITCE.be is the forum for digital professionals where experts from different backgrounds meet in an informal atmosphere.
It is the platform that allows you and/or your company to bring forward, exchange or gain insights in new developments.
The activities generally consist of one or more lectures combined with either a lunch or a reception to stimulate interaction. The main event of the year is the congress where all FITCE associations of the European Union meet for several days of high quality exposés and social activities.
Individual Members enjoy reduced prices on activities organised by the association.
Company Members have all the advantages of individual membership for the individuals in their organisation. You can see the list of our Company Members in the next paragraph.
Supporting Company Members are mentioned with their logo and hyperlink to their own website. Their name and logo are also displayed at events. They get free tickets for events organised by FITCE.be (excluding the yearly European congress). They also get special member discounts on sponsor packages for FITCE.be events. You can see the list of our Supporting Company Members in the next paragraph and on the bottom of every page.
Supporting Company Members
Accenture
Alcadon
Amadys
Attema
AVM
BIPT
Circet
CN Rood
Commscope
Comsof
Cyclomedia
Eurofiber
Fiberklaar
Genexis
Jacops
MAUNT
Merkator
Nokia
Orange
Proximus
R&M
Telenet
Company Members
Agoria
BESIX Van den Berg
CIRCET Projects NV
Citymesh
e-BO Enterprises
Excentis
Fluvius
imec
KULeuven (R&D dept)
Seba Service
Sigma MT BV
UAntwerpen (IDLab)
UGent (INTEC)
VUB (ELEC)
Individuals
Professionals with university (or equivalent) education from the ICT & Media sector
Companies, associations, institutions
Operators & Service Providers
Industry, organisations and professional associations in the ICT & Media domains
Government Bodies (telecom regulator and administrations)
Universities and other institutions of higher education

Student member (<25 years old) : 25,- EUR/yr
Individual member : 50,- EUR/yr
Company member : 300,- EUR/yr
Supporting company member : 2000,- EUR/yr

Check the list of the individuals who participated in the founding of FITCE.be.
The IEEE Communications Society is a diverse group of global industry professionals with a common interest in advancing all communications technologies. With over 8,800 members, ComSoc has become the premier international forum for the exchange of ideas on communications technologies and information networking.
FITCE.be and IEEE ComSoc agreed a cooperation:
- Operators & Service Providers Members of FITCE.be are encouraged to submit papers to ComSoc-sponsored meetings with the same privileges and limitations as ComSoc members;
- Members of FITCE.be may register for ComSoc-sponsored meetings at IEEE member rates;
- Members of FITCE.be may subscribe to ComSoc publications at Sister-Society rates
- Find IEEE content on the FITCE.be website, like the Global Communications Newsletter

FITCE.be is the Belgian branch of FITCE.eu.
Our 22 supporting company members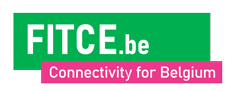 FITCE.be is the Belgium-based broadband connectivity and services organisation, that focuses on knowledge sharing and networking.
We bring together industry professionals and academics to exchange views and gain new insights into the developments and challenges related to the technical, regulatory, societal, and economic aspects of broadband – both fixed and mobile.
During our in-person and virtual events, we explore important trends in the field and discuss evolutions on the international stage, and how they translate to the Belgian content.

FITCE.be is the Belgian branch of the European FITCE.eu umbrella federation.
© Copyright 2019-2023 FITCE.be All Rights Reserved.
website by bluePundit.eu